in: Blog
Brett & Kate McKay •
January 1, 2019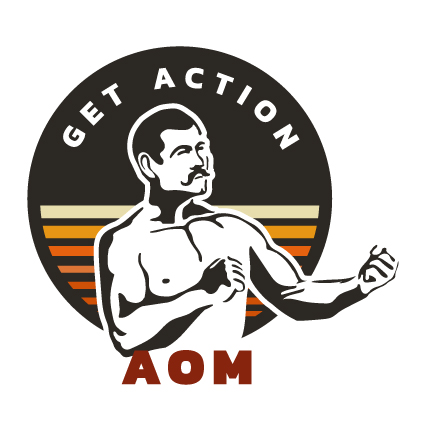 If you're dropping by the Art of Manliness today, you've surely noticed that the site has a brand new look. We've chosen to redesign the AoM website not simply to do something new for the sake of something new, nor simply to freshen it up (though it did need some freshening), but to focus its design on the way the emphasis of AoM's mission has changed over the last decade.
When the Art of Manliness started in 2008, many of the skills, principles, and know-how that had once been practiced, understood, and passed down by previous generations of men had gone missing. Our task was thus to "revive the lost art of manliness."
A decade later, the biggest problem facing men is no longer a lack of information, but the challenge of assimilating the deluge of it and actually implementing it into their lives. In this landscape we have put increased emphasis on helping men not only read and listen to our content, but act on it. We wanted the redesign to emphasize the fact that AoM has, from the very start, differentiated itself from other men's lifestyle media in not only offering motivation and broad principles for growing up and living well, but specific systems, strategies, tactics — practical know-how — for successfully reaching those ideals and simply dealing with the more mundane issues of everyday life. And we wanted to emphasize the fact that not only are we a one-stop resource for advice on nearly every area of a man's career, relationships, fitness, style, and leisure, we also offer a program — The Strenuous Life — which further aims to help men implement that advice into their lives.
With the design's new focus on choosing deeds over words, comes a new tagline as well: "Get action." It's taken from an exhortation expressed by AoM's past, present, and future patron saint — Theodore Roosevelt:
"Get action; do things; be sane; don't fritter away your time; create; act; take a place wherever you are and be somebody; get action."
Just to be clear, despite this cosmetic facelift, the content of AoM's articles and podcasts will remain the same. While we live in a time of informational glut, there continues to be a need for quality fare, and we will continue to offer actionable advice on topics that have not yet been covered by other media outlets, or have not been covered well, along with the philosophy that offers context and direction as to which actions to take in the first place. In all we do, we'll continue to aim to help men grow up well, reach their potential, become better friends, husbands, fathers, and citizens, and live a life of eudamonia — skill, flourishing, excellence, and virtue. No, our values aren't changing, we just wanted to sync up the look of the website to better reflect where our minds and hearts are in 2019, and the role we hope AoM ultimately plays in the lives of men.
While I know change is hard, and some will feel attached to the old site design, I hope you'll come to enjoy AoM's new cleaner look and feel!
To celebrate the launch of our redesign, we'll be giving away 200 free prints of TR's "Get action" quote over at our Instagram account. Follow us there and enter to win.
Big thanks to Derek Hart for the sweet design and Costel Tudose for the programming!